Blackmagic ATEM Mini Pro - HDMI streaming mixer
Blackmagic Design ATEM Mini Pro is a 4-input HDMI mixer with integrated control panel, designed for multi-camera live streaming of HD video to the Internet. The Mini Pro builds on the Mini with added features such as live streaming with the integrated hardware encoder, recording to USB drives, added record and stream buttons, stream caching, timecode generator, program preview, compatibility with Tally, and control over the Pocket 6K and 4K for use as video sources.
The ATEM Mini Pro has 4 HDMI inputs supporting HD up to 1080p. It has HDMI outputs with multiviewer, USB output for recording HD video to computer and RJ45 Ethernet port for direct streaming, as well as system management, remote control and upgrades. It is possible to adjust the frame rate depending on the streaming quality.
 
Avacab Official Distributor
Avacab Official Distributor
Video mixer for streaming on YouTube, Facebook, Skype, TwitchTV, Zoom and similar platforms
 
The ATEM Mini makes it easy to broadcast live, using multiple cameras, on YouTube, as well as to make presentations using Skype or Zoom. Simply connect the cameras to the mixer to switch between them with exceptional image quality, or connect a computer to display PowerPoint presentations, or to a game console. Integrated digital effects allow the use of PiPs, which are ideal for commenting, and include a host of additional tools. They also have a USB port to recognize it as a webcam, so it is compatible with any Internet broadcast program. In addition, the ATEM Mini Pro provides the ability to record content directly to USB drives.
The compact size of the ATEM Mini Pro includes the control panel and the various connections. The front panel has buttons to switch between sources and choose effects and transitions. The font buttons are sized to be intuitive, so the same person who is presenting can switch between the different signals. Audio mixing is also possible. The ATEM Mini Pro has buttons that control recording and internet streaming. On the back of the device are HDMI connections for cameras or computers, inputs for 2 microphones, a USB port that works as a webcam and an HDMI output that can be assigned as an auxiliary bus (selecting any of the 4 inputs), as a PGM output or as a multiviewer output.
The ATEM Mini Pro is simple to use, just press any of the buttons numbered 1 to 4 on the front panel, to switch between sources. You can also choose different types of transitions and effects using the CUT or AUTO buttons. Unlike the cut button, the AUTO button allows you to switch from one plane to another depending on the transition selected, for example, a fade, a fade to a certain colour or other more dramatic effects. On the other hand, it is possible to choose different positions for the images overlayed by PiP. It should be noted that these mixers facilitate the storage of titles and graphics, which can be accessed by external control software.
The HDMI inputs allow up to four video cameras to be connected. Cameras with this type of output offer better results, as they not only provide the ability to use high-end lenses, but also perform better in low light conditions. All sources will resynchronize with the mixer if they work in different formats, so there's nothing to worry about. At the same time, since these cameras support different types of lenses, it is possible to use different versions for general shots or close-ups. In addition, you can use their performance in low light conditions for theatre productions, weddings, school concerts or video clips.
In order to guarantee the widest compatibility, the USB port of the ATEM Mini models allows it to be detected as a webcam by the programs used in the broadcasting of contents. This not only provides the possibility of transmitting images in HD 1080 resolution, but also of using a wide variety of applications and platforms, such as Open Broadcaster, XSplit Broadcaster, YouTube Live, Facebook Live, Skype, Zoom, Twitch TV, Periscope, Livestream and Wirecast.
The ATEM Mini Pro includes an Ethernet connection that allows live broadcasting on YouTube, Facebook and Twitch with better quality, without skipping frames and through a much simpler configuration. Simply select the broadcast service and enter the key to start the broadcast. The ATEM Software Control program has panels for the configuration and status of the transmission, and the latter also appears in the simultaneous viewing windows. It is very easy to interpret, since the data frequency indicator shows the Internet speed required for the selected format. It is also possible to modify the transmission profiles detailed in the preference XML file and to load additional services. It also offers the possibility of directly recording long-lasting H.264 files with ACC audio on USB flash drives for later uploading to sites such as YouTube and Vimeo. It also allows you to use various storage media via a USB adapter or a Blackmagic MultiDock device. When one is full, recording automatically continues on the next. The recording settings and choice of units are configured in the ATEM Software Control program. In turn, the recording status will appear in the simultaneous display windows. Even if you have a Blackmagic Pocket Cinema Camera connected, you can activate recording from the mixer.
For more professional working dynamics, you can control the cameras remotely from the ATEM Mini mixers. The Blackmagic Pocket Cinema Camera 4K and 6K can be used as studio cameras because they can be controlled via the HDMI connection. This offers the opportunity to access camera settings and the colour editor from the ATEM Software Control program. The flexibility of being able to change the ISO value and tone, to adjust the aperture of the aperture, the focus and the focal length, makes it possible for the person in charge of the camera to concentrate completely on the shot. There are two types of control interfaces, one is the traditional CCU and the other is the DaVinci integrated into the cameras, which allows you to give a cinematic style to live productions.
Data sheet
Protocols

RTMP

Video Inputs

HDMI

Outputs

HDMI
Streaming
USB

Scaler

si

Max. Video Resolution

1280x720 - HD
1920x1080 - HD

Entradas Audio

Embebido
No Balanceado

Data and Control

Ethernet
USB

Power

DC
Connections
Total Video Inputs
4
Total Outputs
2
Total Aux Outputs
1
Total Audio Inputs
2 x 3.5mm stereo mini jack.
Total Audio Outputs
None, embedded audio only.
Timecode Connection
None
HDMI Video Inputs
4 x HDMI type A, 10-bit HD switchable.
2 channel embedded audio.
Video Input Re-Sync
On all 4 HDMI inputs.
Frame Rate and Format Converters
On all 4 HDMI inputs.
HDMI Program Outputs
1
Ethernet
Ethernet supports 10/100/1000 BaseT for live streaming, software control, software updates and direct or network panel connection.
Computer Interface
1 x USB Type-C 3.1 Gen 1 for external drive recording, webcam out, software control, software updates and panel connection.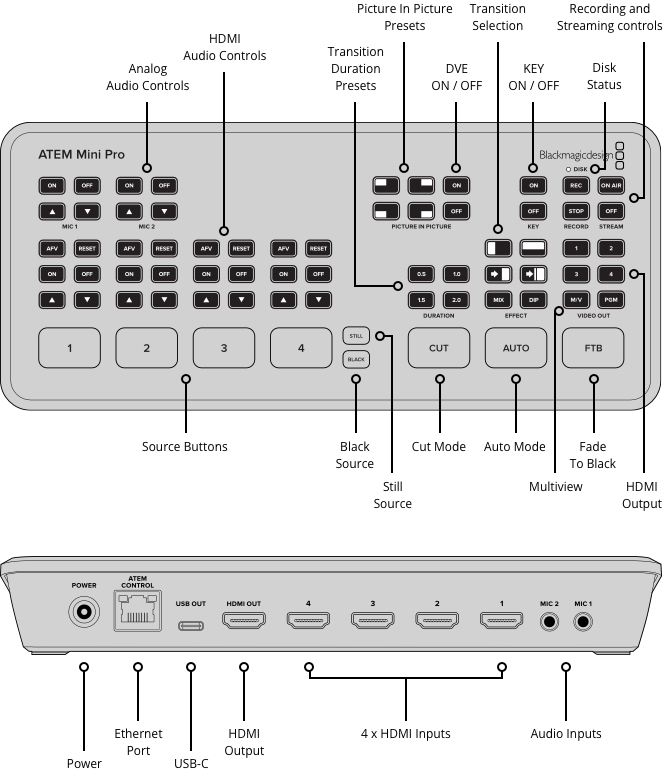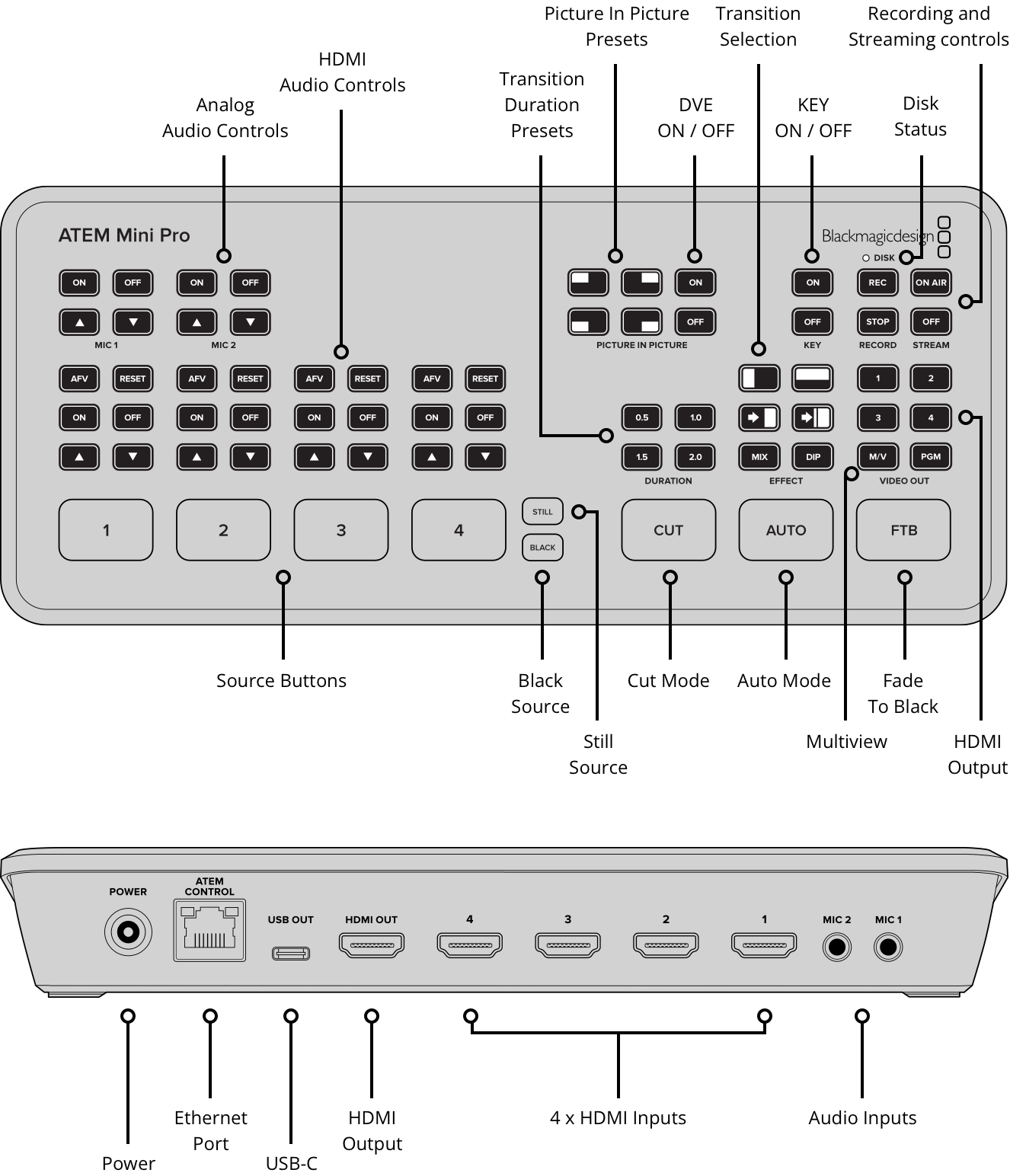 Standards
HD Video Input Standards
720p50, 720p59.94, 720p60
1080p23.98, 1080p24, 1080p25, 1080p29.97, 1080p30, 1080p50, 1080p59.94, 1080p60
1080i50, 1080i59.94, 1080i60
HD Video Output Standards
1080p23.98, 1080p24, 1080p25, 1080p29.97, 1080p30, 1080p50, 1080p59.94, 1080p60
Video Streaming Standards
1080p23.98, 1080p24, 1080p25, 1080p29.97, 1080p30, 1080p50, 1080p59.94, 1080p60
Ultra HD Video Standards
None
Video Sampling
4:2:2 YUV
Color Precision
10-bit
Color Space
Rec 709
HDMI Input Resolutions from Computers
1280 x 720p 50Hz, 59.94Hz and 60Hz
1920 x 1080p 23.98, 24, 25, 29.97,30, 50, 59.94 and 60Hz
1920 x1080i 50 and 59.94Hz 60Hz
Colorspace Conversion
Hardware based real time.
Product Specifics
Upstream Keyers
1
Downstream Keyers
1
Advanced Chroma Keyers
1
Linear/Luma Keyers
2
Transition Keyer
DVE only.
Total Number of Layers
5
Pattern Generators
1
Color Generators
2
DVE with Borders and Drop Shadow
1
Interface
Minimum monitor resolution of 1366 x 768.
Audio
Audio Mixer
6 input x 2 channel mixer.
Selectable On/Off/Audio-Follow-Video per channel plus separate gain control per channel.
Level and Peak metering. Plus new Fairlight audio enhancements: Compressor, Gate, Limiter, 6 bands of parametric EQ. Master gain control.
Analog Input
Unbalanced stereo
Analog Input Delay
Up to 8 frames
Input Impedance
1.8k
Max Input Level
+6dBV
Mic Plug In Power
Available on both 3.5mm mini jack connections.
Streaming
Direct Streaming
ATEM Mini Pro supports direct live streaming over ethernet using Real Time Messaging Protocol (RTMP).
Recording
Direct Recording
1 x USB-C 3.1 Gen 1 expansion port for external media to direct record a .mp4 H.264 with AAC audio at the ATEM video standard.
Media Format
Supports media formatted ExFAT (Windows/Mac) or HFS+ (Mac) file system.
Multi View Monitoring
Multi View Monitoring
1 x 10 Views including left right configurable Program/Preview, 4 HDMI inputs, Media Player, Streaming Status, Recording Status and Audio Meters.
Multi View Video Standard
HD
Media Player
Media Players
1
Channels
Fill and key for each Media Player.
Media Pool Still Image Capacity
20 with fill and key.
Media Pool Still Image Format
PNG, TGA, BMP, GIF, JPEG and TIFF.
Control
Control Panel
Built in control panel. Software control panel with camera control included. Supports optional hardware panel.
Control Panel Connection
Ethernet supports 10/100/1000 BaseT. Ethernet used for direct connection between panel and chassis or via network. ATEM Mini Pro also supports direct USB-C connection. Ethernet or USB-C used for updating the software.
Control Panel Compatibility
Includes ATEM Software Control Panel. Also compatible with ATEM 1 M/E Advanced Panel and ATEM 2 M/E Broadcast Panel.
Control Panel Included
ATEM Software Control Panel included free for Mac 10.14 Mojave, Mac 10.15 Catalina or later and Windows 10 64 bit only.
Software
Software Updates
Using USB or Ethernet connection directly connected to Mac OS X or Windows computers. Includes ATEM Switcher Utility.
Configuration
Set via ATEM Software Control Panel, excluding ATEM chassis IP address which is set via the ATEM Switcher Utility connected via USB to chassis.
Power Requirements
Power Supply
1 x External 12V power supply.
Power Usage
30W
Physical Specifications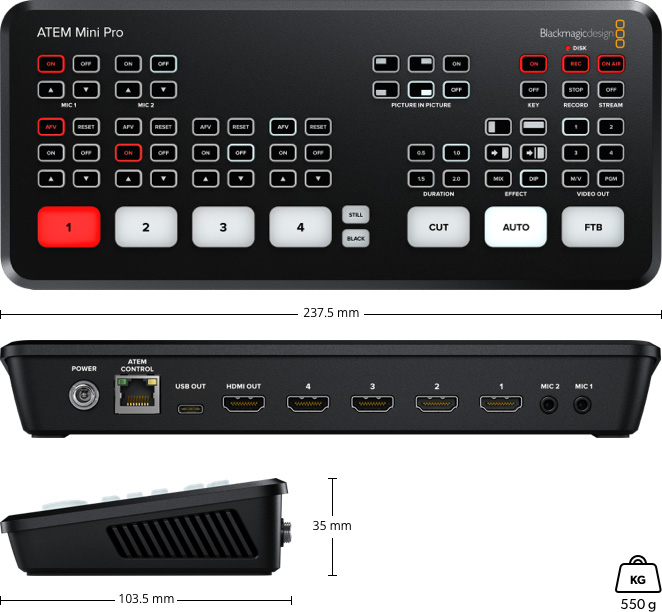 Environmental Specifications
Operating Temperature
5° C to 40° C (41° - 104° F)
Storage Temperature
-10° to 60° C (14° to 140° F)
Relative Humidity
0% to 90% non-condensing