Blackmagic URSA Viewfinder - Eye viewfinder for URSA
High resolution HD viewfinder with precision glass optics for all URSA cameras
 
Avacab Oficial Reseller
Avacab Oficial Reseller
High resolution viewfinder for URSA range of cameras includes full HD OLED display and true glass optics for perfect focus.
Features
Designed for Blackmagic URSA and Mini
1920 x 1080 screen OLED
Optical glass
adjustable diopter
Digital graphic approach
Ocular sensor on the OLED screen when not in use and preserve the life of the screen
Built-in light recording
Switchable in the left eye or right
Connections

SDI Video Input
1 x BNC 3G.

Power Supply
1 x 4-pin XLR (12 V).

Computer interface
USB 2.0 mini-B port for updating the internal operating system.


Features

Resolution
1920 x 1080

Image frequency
Up to 60 f/s

Type of display
OLED

On-screen pixels
6.22 million

Chromatic accuracy
24-bit RGB, 16.7 million colors

Approach
4-element diopter.

Diopter range
-4 to +3

Controls
Buttons and shortcuts to modify settings and choose different available options.

Overlay information
Internal processor and buttons on the top of the device.

Ocular
It can be tilted and extended to fit the left or right eye.

Pilot light
LED

Accessory assembly
Chamber installation with adjustment.

Metadata support
Detects the information embedded in the SDI signal. Function compatible with URSA and URSA Mini cameras or Blackmagic 3G-SDI Shield for Arduino boards.


Energy Requirements
12 V via 4-pin XLR connection through the camera power output.


Physical Specifications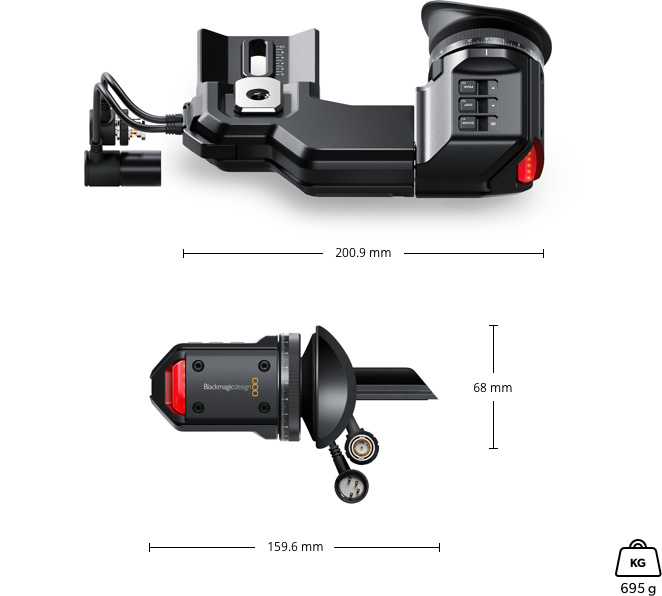 Environmental Specifications

Operating temperature
0 °C to 40 °C (32 °F to 104 °F)

Storage temperature
-20 °C to 60 °C (-4 °F to 140 °F)

Relative humidity
0 % to 90 % non-condensing


Items Included
Blackmagic URSA Viewfinder
9.5 mm knurled screw for URSA camera


Recommended Accesories
Shoulder mount required to install the device on URSA Mini or URSA Mini Pro models.