Back

Brands

Allen & Heath

Angelbird

AVMatrix

AVSnake

Behringer

B-Tech

Cordial

Everet

FeelWorld

Focusrite

HuddleCam

Kordz

LiveU

Metabones

Nanlite

Nanocable

Olympus

Opticis

Rode

Samyang

Schill

Shape

SKB

SmallRig

Sonnet

Startech

Tascam

Tilta

Tooq

Wise

Zhiyun

Video

Equipos de medida

Escaladores

Estudio Móvil

Extensores

Generadores

Gimbal

Grabadores

Mezcladores

Multipantalla

openGear

Procesadores

Videowall

Sincronizadores

Sound

Auriculares

Mixing Desks

Cajas de inyección

Conversores

Distribuidores

Embedders and deemb

Recorders

Interface

Hi-Fi

Aisladores

Connectivity

Carretes

Cables por metros

Cables montados

Herramientas

Lighting

Antorchas

Kits

Paneles

Fresnel

Controles DMX

Photometers

Rental

Cameras

Converters

Recorders

Video Mixers

Monitors

Lenses

Transmitters

Streaming

Deals

Cameras and Accessories

Video Mixers

Capture and Streaming

Converters and Splitters

Recorders

Monitors

Transmission and Bonding

Routing
Your cart is currently empty.
Blackmagic Mini Converter Optical Fiber 12G-SDI bidirectional
The Blackmagic Design Mini Converter Optical Fiber 12G-SDI offers bi-directional SDI to optical fiber conversion capabilities with complete independence in each direction and support for signals up to DCI 4K25 and UHD 4K60. This converter features an SFP fibre optic socket (requires a separate module), a 12G/HD/SD-SDI input and a 12G/HD/SD-SDI output. With a 10-bit rate, it can take advantage of long fibre runs and compatibility with both studio and field HD-SDI and SD equipment.
Features include automatic signal detection and support for up to 16-channel embedded audio. This compact converter has a rugged metal housing and includes a universal 12V power supply with a locking connection for added security.
 
Request a product query
Bi-directional fiber optic converter to 12G-SDI. This model allows you to convert SDI signals to fiber optics and vice versa simultaneously, while providing the ability to process different standards at the same time. The 12G-SDI connections support different definitions and formats with a maximum resolution of 2160p60, as well as A and B level signals. The converter also includes a compartment for 3G, 6G and 12G SFP modules (not included) that facilitates the transmission of SDI signals using inexpensive fiber optic cables, generally used in computer networks.
The Mini Converter Optical Fiber 12G will allow you to cover long distances by converting SDI signals to fiber optics. This new version allows you to connect SDI equipment up to 16 kilometers away. The Mini Converter Optical Fiber 12G model makes it easy to convert SDI signals to fiber optics and vice versa simultaneously, so it's like having two devices in one. In addition, the included universal power supply has a safety connector that prevents accidental disconnection.
Blackmagic Mini Converter Optical Fiber 12G-SDI features
 
Connections:
SDI video inputs: 1 x SD/HD/12G. 1 x optical fiber.
SDI video outputs: Automatic adjustment SD/HD/12G on the fiber optic input.
Fiber optic video inputs: 1 x 10-bit SD/HD/12G.
Fiber optic video outputs: Automatically adjusts to the type of signal received (SD, HD and 12G-SDI).
Fiber optic audio inputs: 16 integrated channels.
Fiber optic audio outputs: 16 integrated channels.
Supported Definitions: Automatic detection of SD/HD/12G signals.
Resynchronization: Yes

Supported formats:
SD formats: NTSC 525i59.94, PAL 625i50
HD formats: 

720p50, 720p59.94, 720p60
1080p23.98, 1080p24, 1080p25, 1080p29.97, 1080p30, 1080p50, 1080p59.94, 1080p60
1080PsF23.98, 1080PsF24, 1080PsF25, 1080PsF29.97, 1080PsF30
1080i50, 1080i59.94, 1080i60, 1080i60

2K formats:

DCI 2K 23.98p, DCI 2K 24p, DCI 2K 25p
DCI 2K 23.98PsF, DCI 2K 24PsF, DCI 2K 25PsF

UHD formats: 

2160p23.98, 2160p24, 2160p25, 2160p29.97, 2160p30

4K formats: 

DCI 4K 23.98p, DCI 4K 24p, DCI 4K 25p

SDI compliance: SMPTE 259M, SMPTE 292M, SMPTE 296M, SMPTE 424M-B, SMPTE 425M, SMPTE ST-2081, ITU-R BT.656, ITU-R BT.601 and SMPTE 297M for SDI signals over fiber optics.
SDI transmission rates: SDI connections support SD, HD, UHD and DCI 4K signals.
SDI video sampling: 4:2:2:2 and 4:4:4
SDI Audio Sampling: Standard 48 kHz and 24-bit TV sampling rate.
SDI colour accuracy: 4:2:2:2 and 4:4:4
SDI colour spaces: YUV and RGB
SDI Auto Adjust: Automatic SDI signal detection SD/HD/12G.
ASI Compatibility: Yes
Operating systems:
macOS 10.12 (Sierra),
macOS 10.13 (High Sierra) or later.
Windows 8.1 or Windows 10.
Energy requirements:
Power supply: Universal +12 V power supply with adapters for different power outlets. Cable holder.
Power consumption: 2 W
Voltage: 6 - 36V DC
Physical specifications: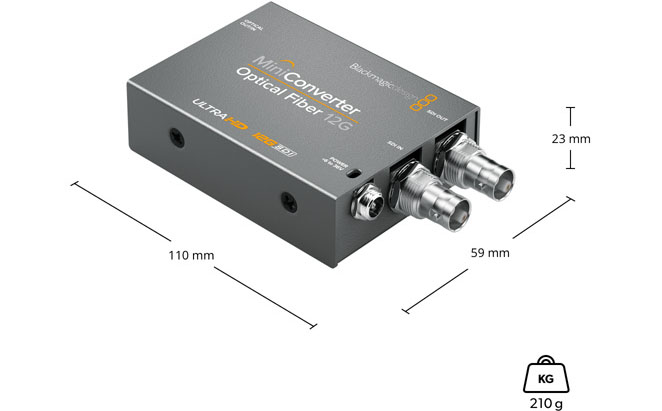 Environmental specifications:
Operating temperature: 0 °C to 40 °C (32 °F to 104 °F)
Storage temperature: -4 °F to 113 °F (-20 °C to 45 °C)
Relative humidity: 0 % to 90 % non-condensing
Items included:
Mini Converter Optical Fiber 12G
Universal +12 V power supply with adapters for different sockets.
Data sheet
Video Inputs

Fibra óptica
SDI

Outputs

Optical Fiber
SDI

Supported Resolutions

625i / 525i - SD
1280x720 - HD
1920x1080 - HD
2048x1080 - 2K
3840x2160 - UHD
4096x2160 - 4K DCI

Transmisión

Fibra óptica