Blackmagic ATEM Camera Control Panel - 4 Blackmagic Cameras RCP
The Blackmagic Design ATEM Camera Control Panel is capable of controlling up to 8 Blackmagic URSA Mini, URSA Broadcast, Blackmagic Studio or Micro Studio cameras in two banks of 4. Each push-button switchable control bank provides immediate control of iris, shutter speed, white balance, gain, pedestal, black and white RGB, and much more. The control panel is mounted in a metal chassis. Connected to an ATEM mixer, it can be easily configured via the built-in Ethernet connections. The control panel features four camera controllers, and each camera controller includes a large LCD screen with buttons and knobs at the top of the panel, and a full set of professional controls underneath in the main body of the panel. It allows scene presets to be saved and recalled.
 
Avacab Oficial Reseller
Avacab Oficial Reseller
 
 
 
 
 
 
 
 
 
RCP remote control panel for 4 Blackmagic cameras. Allows you to control cameras remotely and connect up to four URSA Mini, URSA Broadcast, Blackmagic Studio or Blackmagic Micro Studio. In addition, it offers the possibility to adjust parameters such as diaphragm, shutter speed, gain and white balance, as well as RGB controls for white and black balance, among other features.
ATEM Camera Control Panel: Four camera remote control from the same panel
This compact device offers the possibility to remotely control up to four URSA Broadcast units, URSA Mini, Blackmagic Studio Camera or Blackmagic Micro Studio Camera simultaneously. It includes conventional controls that allow a single person to adjust a wide range of technical parameters, such as black intensity, color balance and shutter speed. In this way, the operator can focus on the creative aspects of production, for example, the framing and the composition of the shots. Unlike other CCU units, this model has been designed with the aim of offering greater portability. Therefore, it is possible to install it on mobile desks or racks. The disposition of the controls follows a logical and habitual order, ideal for both new and more experienced users. It should also be noted that the panel is compatible with the entire line of ATEM mixers.
Four camera control: One person can control up to four cameras
During productions with several cameras, it is important that all of them are adjusted correctly, in order to achieve consistency between the images captured from different angles. In this sense, the panel includes four controllers with LCD screens, multifunction knobs and buttons on top, and a wide variety of professional controls underneath them.
Camera control and default settings
The buttons at the top of the panel allow you to save and apply preset settings in order to adjust the cameras quickly, for example, when a change in lighting conditions occurs. In addition, this module of the device includes controls to modify the general gain, the white balance and the shutter speed.
The central part of the device has rotary controls for each chromatic channel (RGB) that allow to adjust the pedestal and the gain. In this way, it is possible to modify the values ​​of the primary colors in the lights and shadows in order to compensate for any unwanted tonality.
The color of the camera number on the screens at the bottom of the panel indicates whether the signal is on air or corresponds to a preview, while the respective levers allow to adjust the intensity of the black and the opening of the diaphragm with greater precision. Also, the panel includes a button to block it and another one that provides the ability to communicate with operators, as well as indicators for the status of the network, power and connection to the camera.
Live productions: Compatibility with ATEM mixers
The device connects directly to any ATEM mixer or control panel through an Ethernet network. During a live production, it is possible to use several of these devices, for example, the ATEM 4 M/E Broadcast Studio 4K model with an ATEM 1 M/E Advanced Panel and an ATEM Camera Control Panel. To do this, simply connect one to another through a network cable.
Connections

Ethernet
2 x 10/100/1000 (Base-T) with branched output for control panels and additional computer equipment.

Internal operating systems updates
1 x USB-C for firmware updates.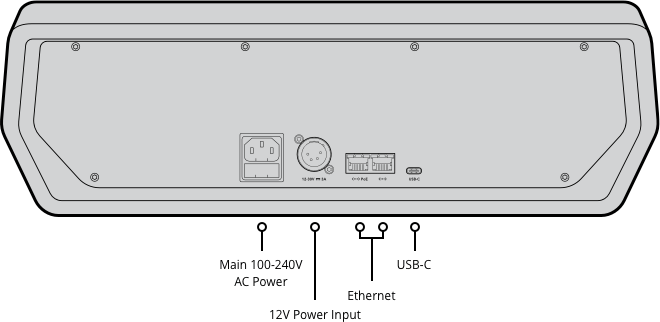 Product Specifications

LCD Displays
4

Camera number
Green: out of air. Red: on air.

Configuration
White and black balance adjustment.

Three-axis joystick
4

Advance payment button
4

Diaphragm control
Automatic diaphragm opening activated, primary control.

Active Panel
Project configuration.


IT Support

Software applications
ATEM Software Control Panel.


Energy Requirements

Input Voltage
1 internal power supply x 100-240 V AC.

DC power
12-30 V, 3 A

Redundant power supply system
Yes

Consumption
30 W.


Physical Specifications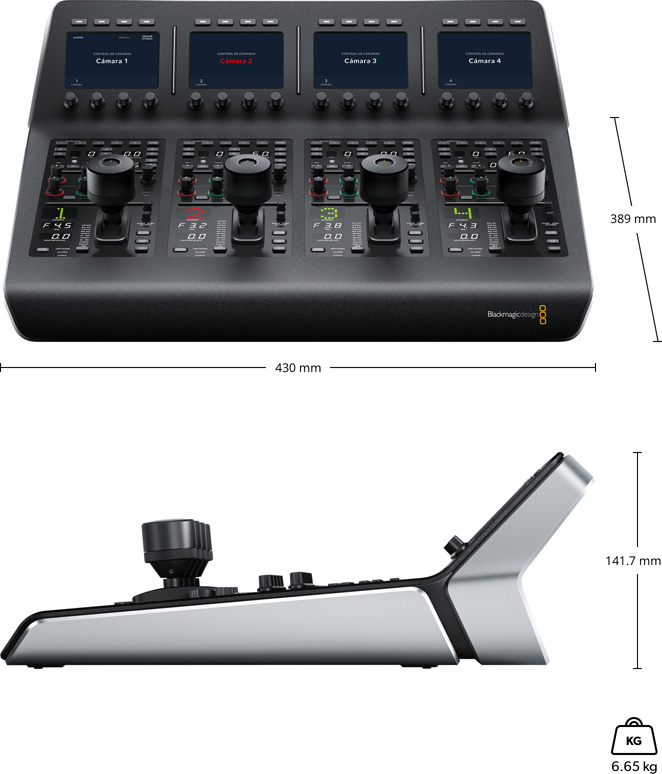 Environmental Specifications

Operating temperature:
0 °C to 40 °C (32 °F to 104 °F)

Storage temperature:
-20 °C to 60 °C (-4 °F to 140 °F)

Relative humidity:
Up to 95 %


Items Included
ATEM Camera Control Panel